the history of haircare
The haircare industry continues to evolve, which is amazing because we love an innovation revolution. In order to understand where we're going, we first have to understand where it all began: cosmetic chemistry. Traditional cosmetic chemistry was the hair world's answer to damage for centuries, focusing on improving the look and feel of hair by temporarily covering up signs of damage (think oils, conditioners + any styler that sits on top of hair strands). While this made hair more manageable, the result didn't necessarily translate into hair being healthy.
Enter the next era: bond building. This technology looked at hair repair from a completely new angle. Bond builders work to tackle damage beyond the outer layer, from inside the hair strand. Which, was mind-blowing at the time. Can you even do that? Bond builders can.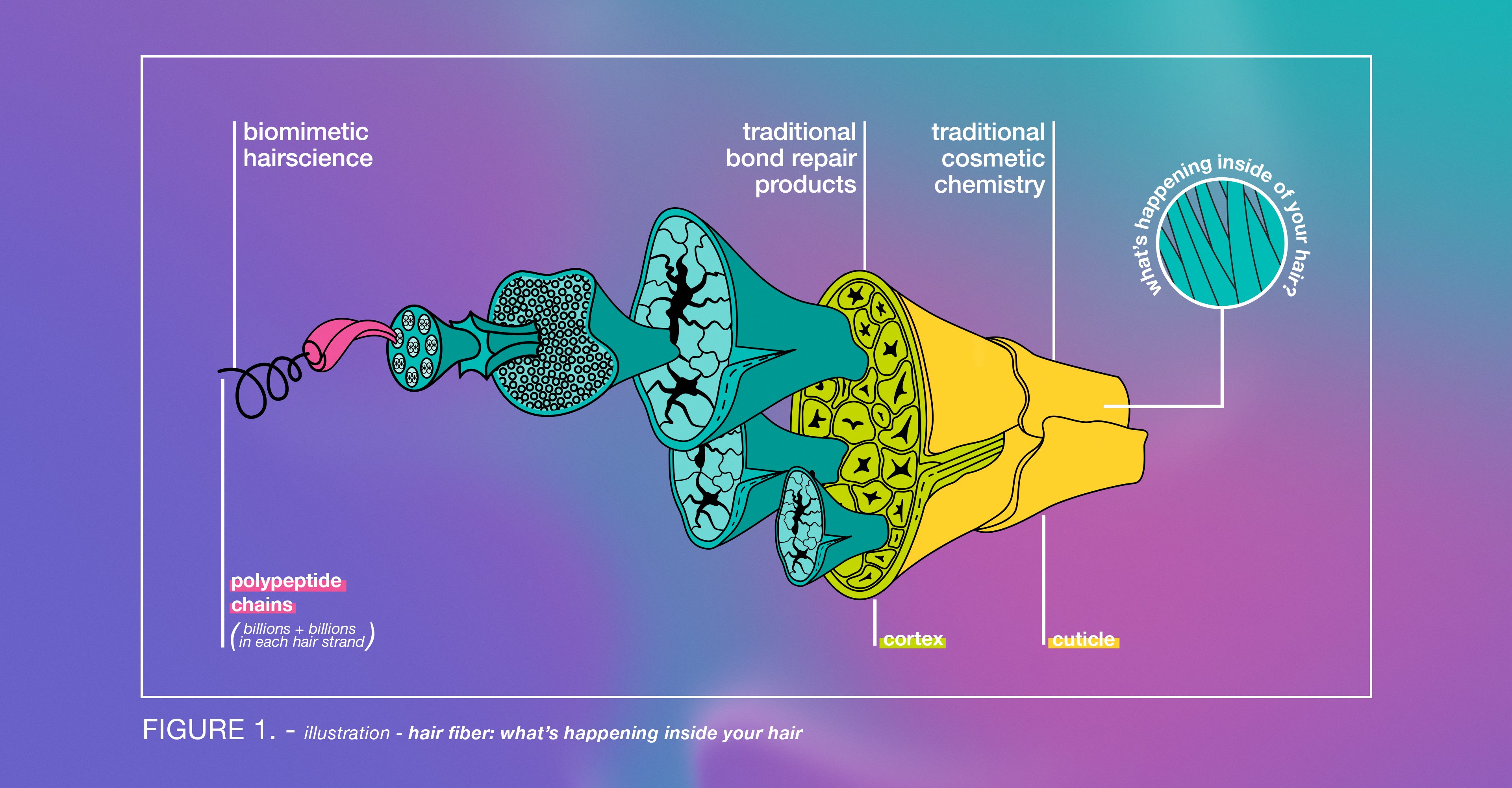 all about bond builders
Working on a different level than cosmetic chemistry, the bonders cleverly use interventional therapy designed to be used DURING a salon process like bleaching. During the process, the active compounds would react with disulfides faster than oxidizing agents could destroy them, resulting in less damage at the end of the service.
The active agent of this ionic crosslinking technology has two parts. One half of the active bonds with sulfur in hair irreversibly, protecting each half of a disulfide like a little hard hat. The second half of the active sits in between the two ends, attracted by opposing charges and forming what's known as an ionic bond, creating a bridge between the little hard hats. Because ionic bonds are affected by pH, that middle linker may be washed away with the alkaline pH many tap waters have. So though the first half remains, the connection or that reinforced strength may still be lost.
In addition, a key piece was still missing—we just didn't know it yet. Hair's strength comes from the protein structures within the cortex, which is made of long, fibrous keratin. Disulfide bonds help reinforce this structure by creating crosslinks between polypeptide chains. In other words, they stabilize the x-axis (or width) of the hair fiber. In some ways, the term "bond builder" is a bit of a misnomer, as it usually addresses only this one type of bond. The plot twist? Disulfide bonds are not the only bonds that give hair keratin its structure and strength!
Different kinds of bonds (stay tuned for a future Science Sunday!) all work together to create the strong, resilient protein that makes up hair. Because the K18 peptide is biomimetic, or made of the same stuff as hair keratin, it is able to participate in nearly all of these. One crucial type of bond—the peptide bond—holds proteins together specifically along the y-axis (or length) of hair. These bonds can get broken during chemical services, something not addressed by current bond builders.
So the next evolution of haircare took bond builders a step further to target damage holistically and address those key areas that were lessening hair's strength and resiliency—or the look and feel of healthy hair. This next evolution is that fancy word on the front of our products: biomimetic hairscience.
Here's them side by side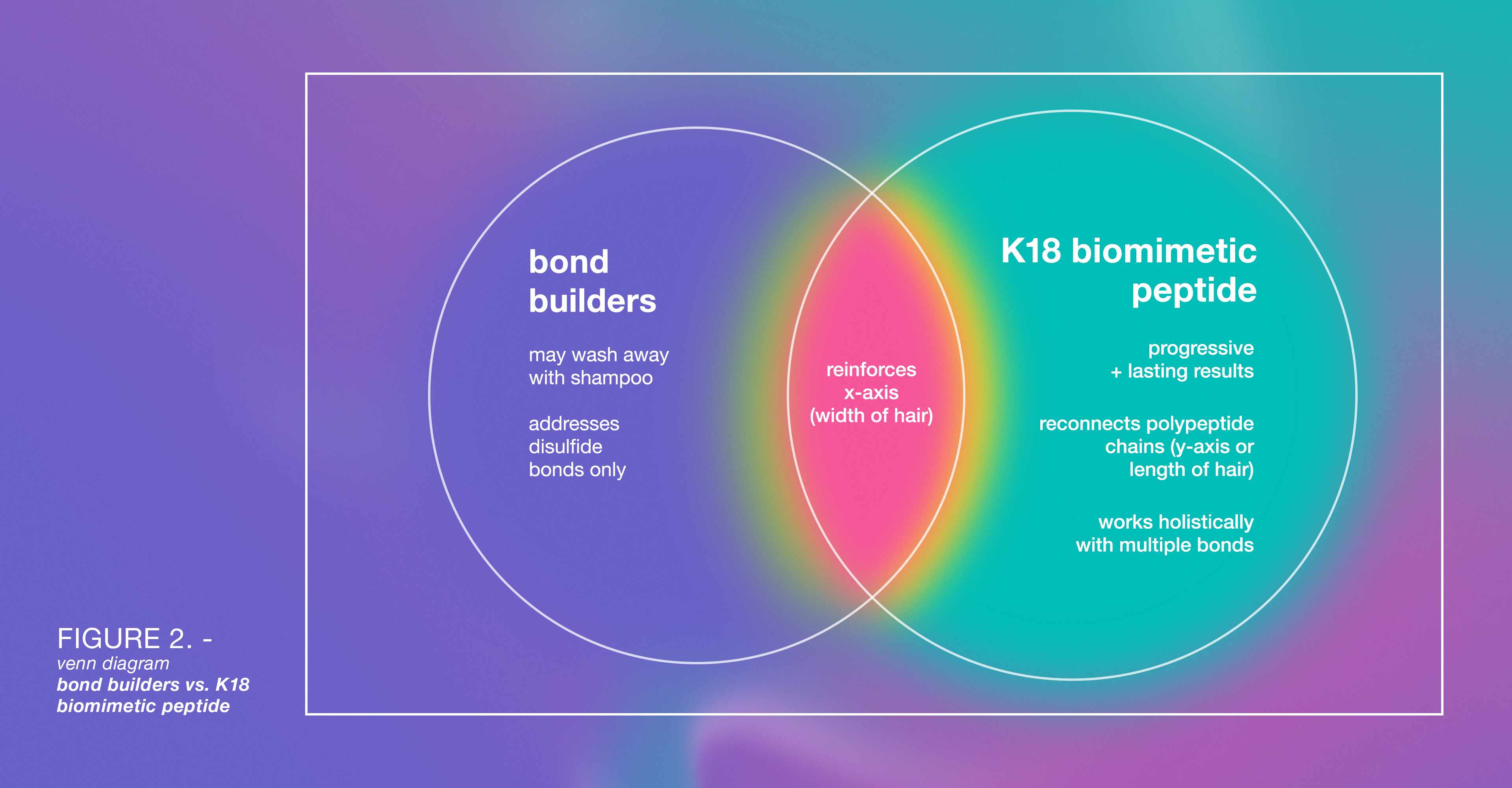 next-level hair renewal
It does everything bond builders do, reinforcing disulfide bonds on the x-axis, and goes a step further by also repairing polypeptide (keratin) chain breaks on the y-axis. By going to the inner-most layers of hair, biomimetic hairscience can renew hair's core strength + elasticity to bring damaged strands back to their original, youthful state. Woah.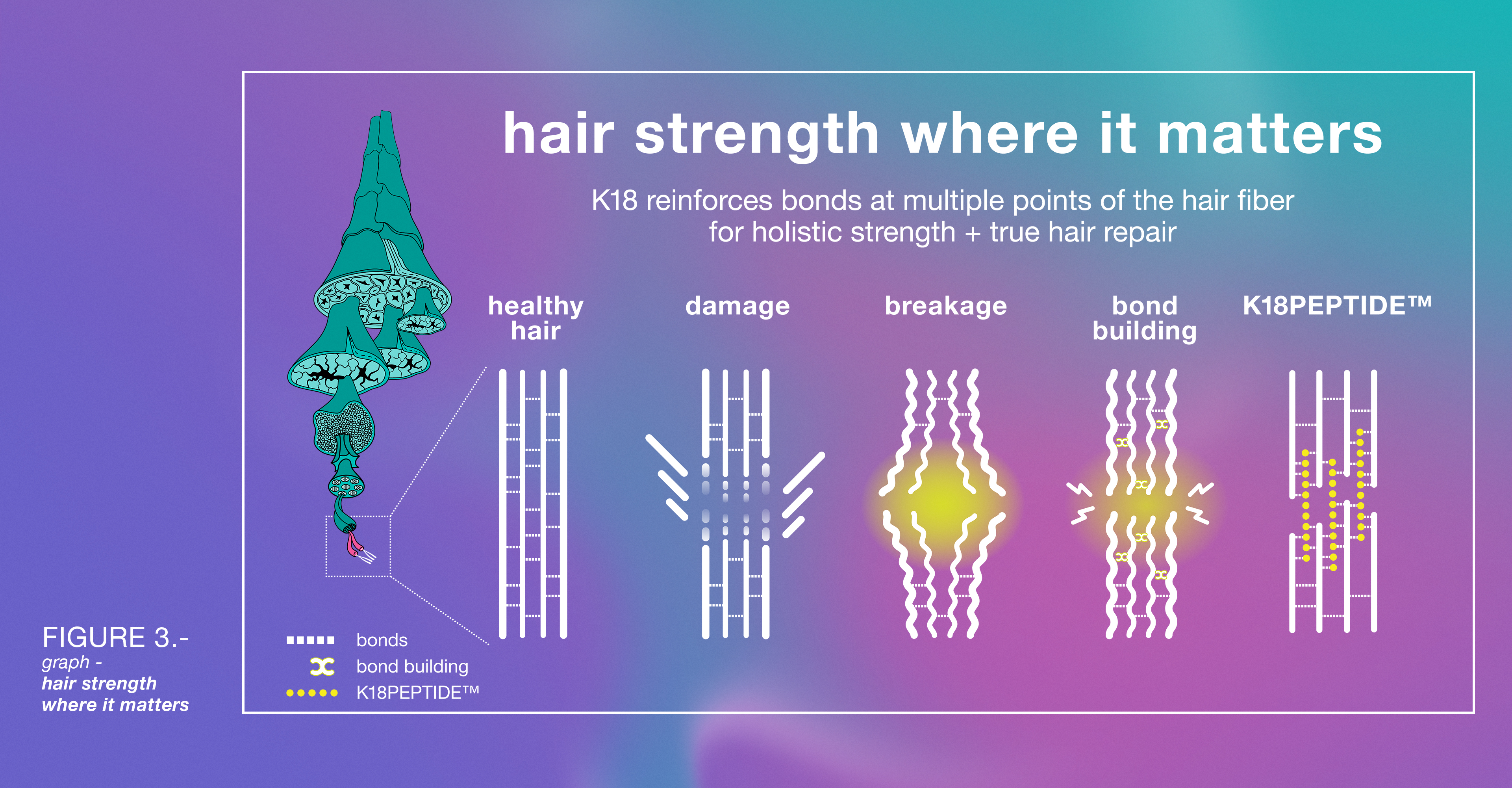 While bond builders were revolutionary for their time, they should only play a supporting role in your hair health journey, as that alone will not holistically address damage. Biomimetic hairscience is the key to lasting damage repair for the long term.