Here's the truth: healthy hair is born in the salon. That's why we power the artists out there with the dynamic duo for damage control—the PRO Service to address damage at every step in the salon. Damage is ongoing, so the K18 mask keeps hair health going at home so you can do more at your next appointment. Nice.
So how do these biomimetic breakthroughs work to unlock your hair happiness in the salon, and at home? Let's break it down.
Maybe you've heard of the K18 PRO mist. Perhaps you've seen it on display during one of your salon-appointments-turned-informal-therapy-sessions. It's a product we reserve for our PRO community, but that doesn't mean it's not a major player in your hair health journey.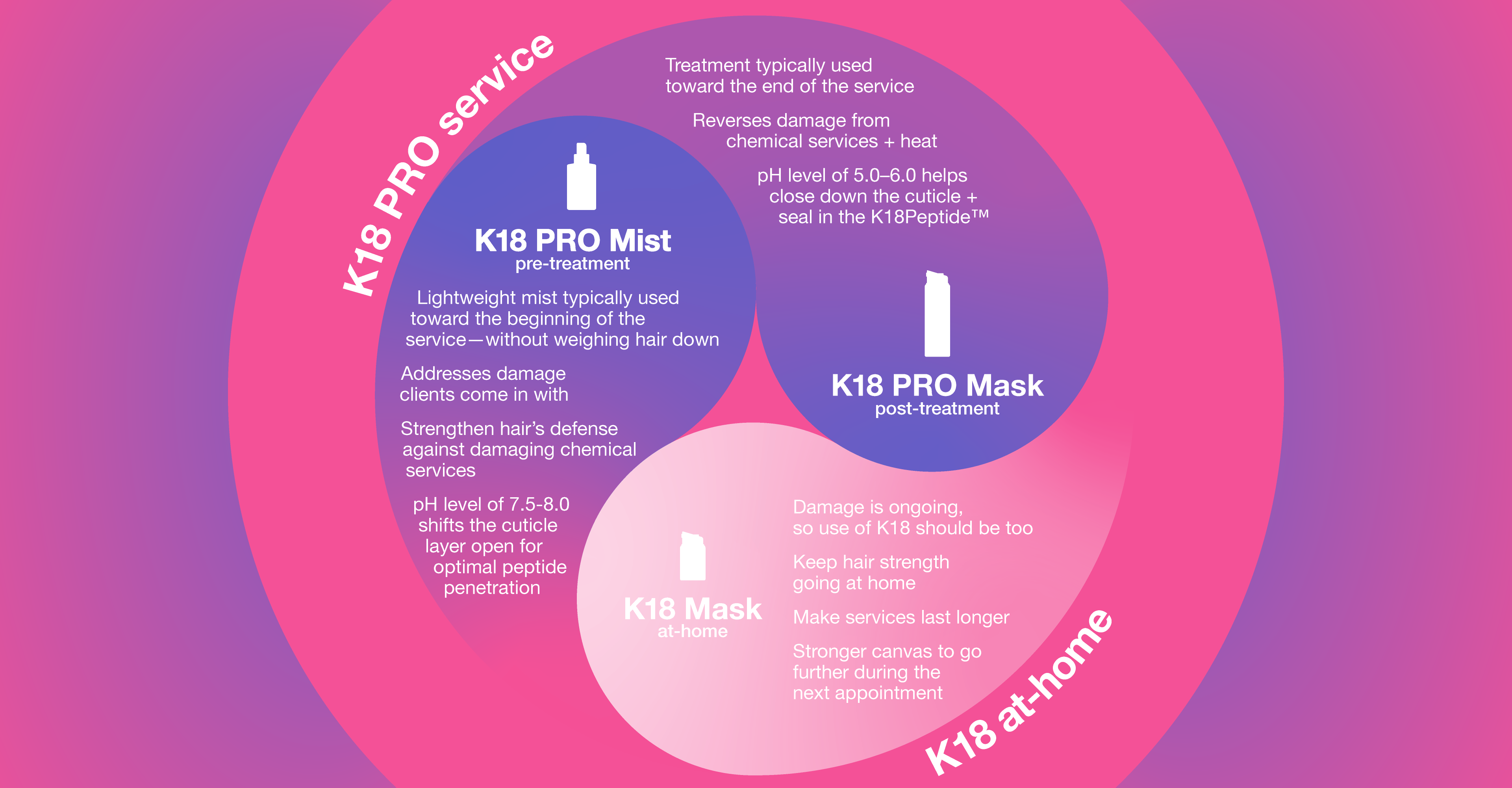 The K18 PRO mist is a peptide-powered lightweight mist engineered to strengthen hair's defense against damaging chemical services. The yin to our mask's yang. (Yeah that mask, the one you know and love.) Both products harness the power of our patented K18Peptide™—but the secret sauce here is pH.
Typically used toward the beginning of the service, the pH level of 7.5-8.0 shifts the cuticle layer open to penetrate hair's cortex and deliver the K18Peptide™ to damage sites on the molecular level—without weighing hair down. By resetting pre-existing damage, the PRO mist gives stylists a healthier canvas to play with during your service—which inevitably will cause more damage.
The mask can make its move after bleach, color, and/or other chemicals are applied to the hair. With a pH of 5.0-6.0 (read: more acidic), it seals in our peptide to reconnect newly broken keratin chains, reversing the damage that just happened during your service. That's why we recommend using it at home as well—to maintain your strands' newfound strength and keep that healthy hair going at home, where we KNOW more damage is going to happen. Not to call you out or anything but…we know. Probably because we do it too.
Together, the PRO mist + mask address damage at every step of a salon service. A biomimetic dream team potent enough to take hair back to 91% virgin strength + 94% virgin elasticity.
It's the kind of duo you thought you'd only see in movies (but it's so much more than that).
See ya soon for more FUNdamentals.