Let's dive in.
all about pH
When we expose our hair to water while washing, it swells the cuticle (the outside layer of hair), this causes dye molecules to dissolve, degrade, and wash down the drain. Coupled with the typically higher pH of tap water (6.5–9.5 vs. hair's optimal pH of 4.5–5.5), the cuticle swells even more leading to faster color fading and possible hair damage…uh oh.
Traditional shampoos can have a similar impact since most aren't formulated with hair's optimal pH in mind. A shampoo with higher pH swells the cuticle further during washing, leading to more extreme color fading, tangles, and ultimately more breakage. To counteract this, formulators use excessive conditioning agents to make hair look and feel nice, while leaving buildup behind. Not exactly squeaky clean if you ask us.
color-safe clean
The secret behind our color-safe shampoos is that they were formulated with these pH ranges in mind to offset hair's exposure to higher pH. These optimized ranges minimize cuticle swelling to help keep your color intact + looking vibrant. Plus, these no-filler formulas won't leave buildup behind that can mess with your color. It looks something like this.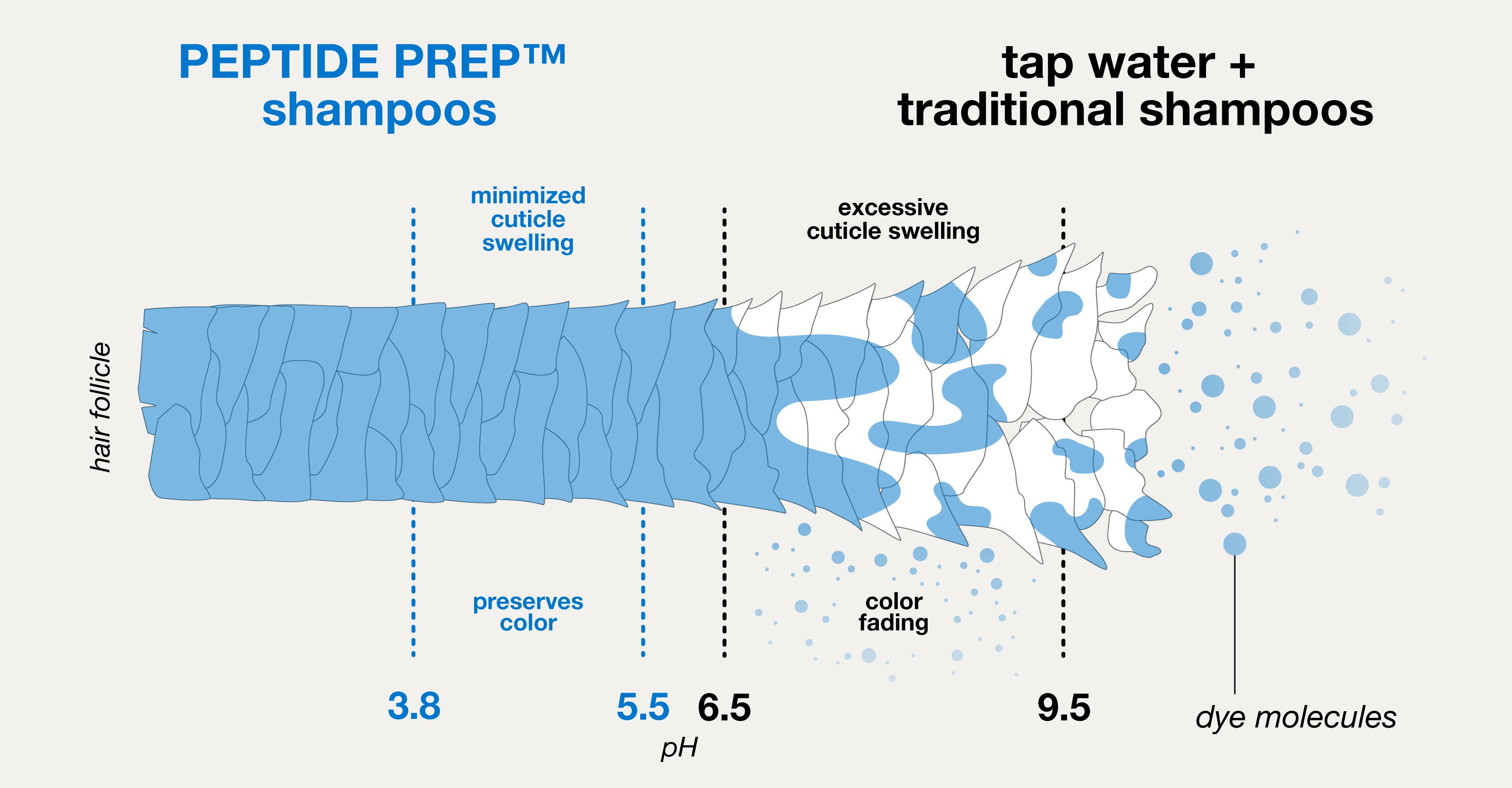 Now, let's break down how to use PEPTIDE PREP™ shampoos to keep your color going at home.
your color-care routine
Color is impacted by buildup—it may start to look hazy, dull, or even lighter than usual. This is because mineral chalkiness and product buildup can create a white cast or haziness. So don't panic, if you have darker hair color and remove buildup with the detox shampoo, your hair may appear darker after removal of all that stuff. It's not stripping the color, just removing that color-changing buildup.
Our non-stripping detox shampoo removes buildup from products, oils, sebum, minerals, and metals common in your water like 76% copper (and 99% product buildup + 95% sebum* because we're overachievers). While traditional clarifying shampoos tend to have a higher pH + fade your color fast, our detox shampoo has a lower pH of 3.8–4.2 to reset hair without messing with your color. You only need a little of this concentrated formula to do a lot—just warm it up between your hands with water, and thoroughly rinse post-wash to see revived color vibrancy, texture + bounce in-between appointments. Oh yeah, and the salon services you get + your products (like the K18 mask) work better too.
For more frequent washing, our pH maintenance shampoo with a pH range of 4.5–5.5 (right in that pH sweet spot) prevents excess cuticle swelling to help reduce frizz, preserve color + maintain your hair's health and shine. Plus, this certified microbiome-friendly formula is gentle enough to use every time you wash without disrupting your hair + scalp environment. Nice.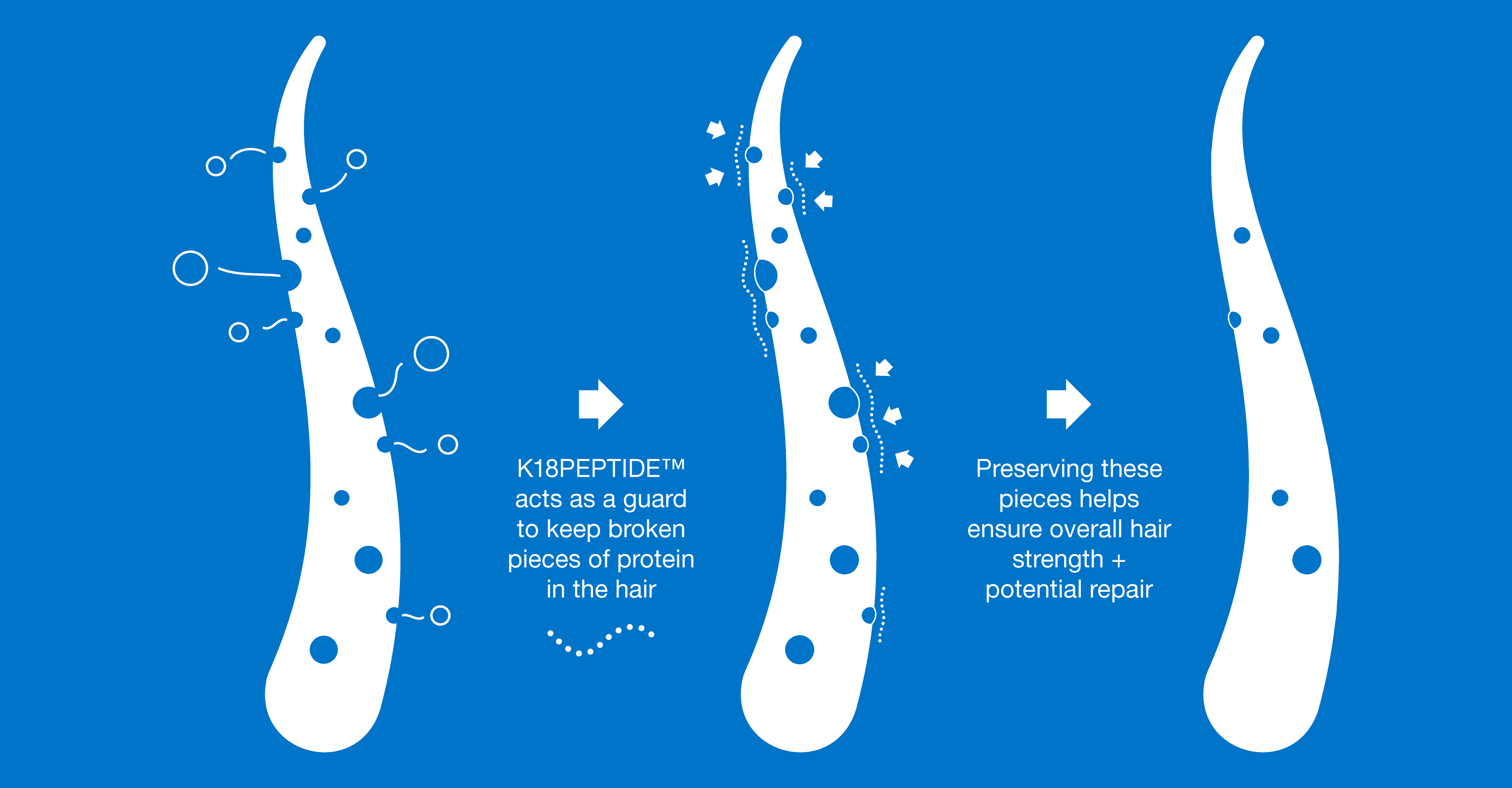 Since damage is inevitable when getting a color refresh, we formulated both shampoos with the K18PEPTIDE™ to help maintain hair strength while washing. For even more peptide-powered renewal, use our K18 mask to reverse damage in just 4 minutes—it's color-safe too ;)
See ya soon for more FUNdamentals.
*results observed on bleached hair tress after 1 wash with detox shampoo