PROs are like multitasking magicians in the salon, mixing up magic and creating looks out of thin air. So, let us take one thing off your to-do list with this guide to chatting K18 with your clients.
Let's dive in.
What is K18?
K18 is a peptide-powered leave-in treatment that repairs hair damage in just 4 minutes. It works from the inside out to renew all hair types for stronger, softer, smoother, and bouncier hair.
Will it work for my hair? Even curly–coily hair?
All hair is the same at the molecular level (which is where K18 does its thing) so it will work to renew all hair types—yep even 3-4C. It's also compatible with all products, easily fitting into any routine.
Why should I use K18?
Damage is ongoing, in and out of the salon. Chemical services, heat styling…we put our hair through a lot. K18 reconnects broken disulfide bonds (what bond builders do) AND broken polypeptide (keratin) chains to restore holistic hair health by addressing hair's core strength and elasticity.
Here's a quick analogy that might help clients: think of it like concealer vs. retinol. Concealers (like most hair products) temporarily cover up a skin problem instead of building an overall healthy skin base. K18 works like a retinol, repairing damage on the inside for stronger, more resilient hair. Plus, you can reach your hair goals, like that bleach blonde you've been saving to your hair board, with less damage.
But, what about bond builders?
Bond builders walked so K18 biomimetic hairscience could run. Bond building technology was revolutionary for its time, but it temporarily restores just one type of bond—ignoring keratin chains which are the key to hair's core strength + elasticity.
K18's biomimetic peptide mimics the molecular makeup of keratin, so it's the perfect missing puzzle piece to reconnect damage sites.
How do I use it?
Hair routines look a little different with K18. Think less steps + more self-expression without damage.
Shampoo. Skip conditioner
Gently towel dry hair 'til damp
Start with 1 pump and spread it between your hands.
Evenly distribute it from ends to roots.
Add more as needed but don't exceed 3 pumps
Wait 4 minutes before combing + styling to get your finished look + feel.
Then do whatever you want. This is a leave-in, no rinse needed.
PRO TIP: If your client uses a lot of other hair products, try a clarifying/detox shampoo pre-K18 so the peptide can penetrate more effectively.
Have clients use for the first 4-6 washes, then they can switch to maintenance mode and use depending on the level of damage they put their hair through on the regular.
I'm scared to skip conditioner
Explain to your client it's not if but when. Conditioner leaves a film that blocks our biomimetic peptide from penetrating the outside layer, so it can't reach damage sites in the innermost layers of your hair. Skip conditioner at first to give K18 a clear path, then once the 4-minute wait time is up, feel free to use a conditioner or leave-in.
How much is it?
K18 has 3 sizes to cover all kinds of beauty budgets + this formula is highly-concentrated so you need wayyyy less than your traditional hair mask or conditioner. One bottle should last a long time (think retinol).
Average use is about 1ml, so…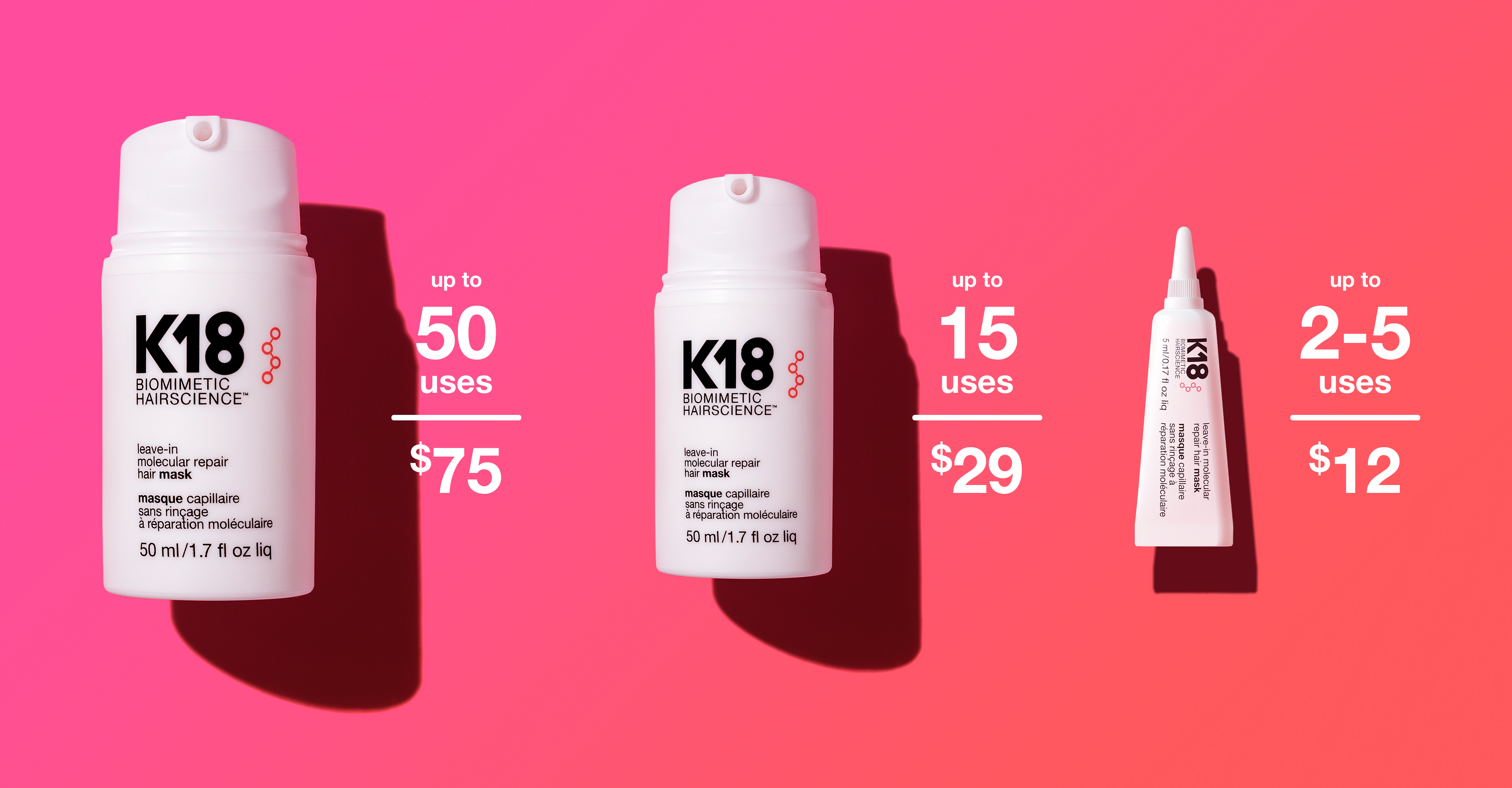 Getting the convo started
Nice. Now that you have the basics down, how do you talk K18 in the salon without sounding… salesy? Here are some ways to get the healthy hair convo started:
Want your service to last longer? Use the K18 Mask to repair ongoing damage and prolong your color/style/hair health at home.
We were able to do xyz to your hair today. Next time, I can go even further if you come in with a healthy hair base. Use the K18 Mask for the next 4-6 shampoos so we can do even more the next time I see you.
Loving your look? Use the K18 Mask for the next 4-6 shampoos to repair ongoing damage + keep your hair strong, soft, smooth, and bouncy at home.
If you're worried about the hair damage you do at home and want to keep your hair feeling like you just left the salon, try using the K18 Mask.
Whenever you need a refresher, this beginner's guide is always here for you. Remember, you're the expert here—you got this
See ya soon for more FUNdamentals.